Pure. Individual. Spirit. Soul.
Journey To Your True Self
Wellness Weekend
August 23 - 25, 2019
A weekend dedicated to the exploration of deep healing. Transform your health and relationships and gain clarity on your life's purpose. Explore your past present, and future through group channeling, sound and energetic healing, yoga, meditation and intuitive art. This in-depth exploration will empower you to understand and embrace your soul lessons, shift your consciousness and create positive changes.
EXPERIENCE:
Energetic Healing. Intuitive Painting. Sound Healing. Intuitive Writing. Yoga.
Group Channeling. Essential Oil Workshop and More!
Join us to find deeper self integration and reconnect with your inner truth!
Investment to yourself:
$475 per person + Hotel Accommodations
Space is Limited, Reserve Now!
This includes Friday Night Welcome of Lavish Food Stations, Saturday & Sunday Breakfast and Lunch.
Friday Arrival:
3 pm Check in at The D. Hotel Suites & Spa
The Delaney House:
6:00 Welcome Lavish Food Stations, Passing of Crystals
7:00: Group Channeling, Weekend Intention Release Discussion
8:30: Fire Pit and Gong: Burning Paper Ceremony, Weather Permitting
Saturday:
6:30: Group Channeling
8:00: Healthy Breakfast
9:00: The Journey Back, Bread Crumbs Trail Lecture
10:00: Gentile Yoga: Including Energy Healing and Sound Healing with a Focus on Grief
12:00: Healthy Lunch buffet
1:00: Mini Energy Healing Sessions and Meditation
2:30: Intuitive Painting and Writing
4:00: Break for Dinner. We encourage you to enjoy Delaney's Grill, the Restaurant at the Delaney House. Reservations are strongly encouraged and can be made by clicking here. View the menu by clicking here.
8:30: Dancing, Gong-Bath and Fire Pit, Weather Permitting.
Sunday:
6:30: Group Channeling
8:00: Breakfast & Hotel check out
Travel to our Sister Location, The Log Cabin. About 10 minutes away.
10:00: Essential oil workshop: Focus on Fear, Addiction and Anxiety
12:30: Healthy Buffet Lunch
1:30: Closing Discussion, Group Reading, Messages from Spirit
3:00: Salutations
Reiki Master, 13th LaHoChi practitioner, energy healer, spiritual intuitive and yoga instructor.
Nicole's first yoga class was in New York City on September 11, 2001. This transformational day left a lasting imprint on her life. She continued to practice as much as her busy schedules permitted when she was working in the fast-paced fashion industry. Nicole was left feeling empty and unfulfilled in her life and career, which prompted her to leave the industry. Taking time to slow down allowed her to reconnect to her core and the necessary time to commit to her yoga practice. This practice has led Nicole on her healing journey which has now become a professional passion for teaching, healing and inspiring others with the gift of yoga and energy healing. Nicole is a psychic medium, and an energy healer. She is a Reiki Master and a 13th Octave LaHoChi Practitioner. Nicole's gifts as an intuitive began in her early childhood and continued to evolve throughout her life while enduring many family tragedies and losses. It wasn't until she began her journey with self-energy healing that she then became comfortable with her gifts and recognized them as her most powerful healing modality. Nicole can connect with her clients on a deep spiritual and emotional level by uncovering and pinpointing traumas that have manifested into illnesses and emotional blockages. This spiritual guidance results in powerful and transformational healing.
Intuitive, energy healer, gong master, yoga and meditation teacher, life coach, essential oil expert, and author.
Jennifer Ripa-Edson is a transformational life coach, energy and sound healer, author, yoga teacher, and essential oil educator. She holds a health and life coaching certification from Health Coach Institute, 200 Hour Yoga certifications in Kundalini and Vinyasa Yoga, is trained in Reiki and Rising Star energy therapies and has been painting since she was in high school. She has been studying and using essential oils in her home and practice for five years. Jen draws upon her skills in many areas to cut through the surface layers of resistance with her clients to help them activate change and personal growth. She is masterful at identifying belief systems and patterns of behavior that stand in the way of evolvement and future goals and co-creating action plans with her clients. These action plans bring her clients to greater success, health, vitality, and happiness. Because the mind, body, and spirit are interconnected, she employs energy healing, sound therapy, essential oils, yoga and meditation practices, and coaching methods in sessions with her clients. Her nurturing and supportive approach along with her commitment to being a catalyst for movement and expansion allows for breakthroughs and lasting life change for her clients.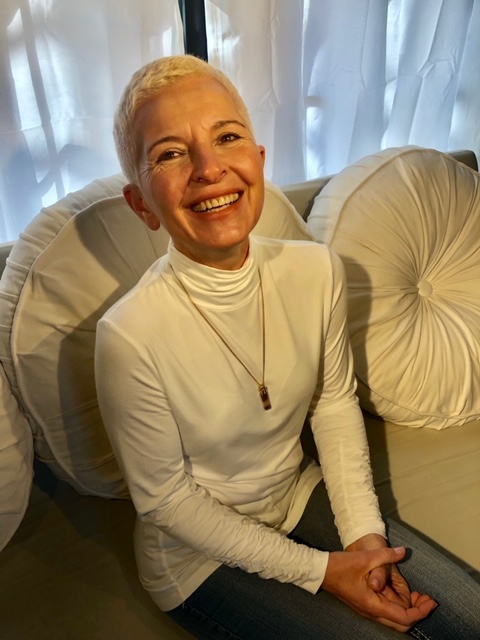 Source Energy Channel and healer. Spiritual adviser
Aggregata's true essence and life purpose is her role as a Channel. Her body functions as an instrument connecting to Divine source to transmit pure, deep healing power to her client's energy system through flow of the subtle body. Sessions allow clients to experience release from any trapped negative imprints of past traumas that may be interfering with a their health, harmony and happiness. Each session is unique, with limitless benefits-creating higher levels of energy, vibration and consciousness. Her authentic gift, deep compassion and joyful warmth provide a relaxing, transformational experience for all levels of your being. Aggregata's healing work is a "portal of grace" supporting others on their journey to reconnect with their divine truth.
Aggregata Zupanova is an intuitive energy healer and has been a spiritual counselor for the past 20 years. Born in Slovenia, Aggregata was innately drawn to the earth's power and spirit of all beings. Her love of nature led her to study veterinary medicine. She received her master's degree in veterinary medicine at the University of Ljubljana in Ljubljana, Slovenia. Along her journey she had a consistent inner desire to discover higher dimensions of experience. Training with renowned international spiritual teachers affirmed her faith in a greater meaning of life. Aggregata participated in research with prominent Slovenian psychiatrist Dr. Kleman Rebolj, in the field of human psyche. She has attended various trainings with prominent healers including, the Body Detective Method of Dr. Patrick Price-Cellular Release, the method of Aiping-Wang innovator in the areas of natural health, Transfigura Regeneration method of Stanny Lansloot-Regeneration with accumulated energy and the method of Bert-Hellinger-Family Constellations and Systemic Constellations. Learning to access and heal with Divine energy became an essential part of her awareness and work. Combining her extensive studies and her own healing and guidance, she has developed a Source Energy Channeling Healing Method which has been proven to be successful in healing and curing many forms of ailments, conditions and diseases.